Below is our new class timetable which starts Monday 19th July, book on now!
Gymtec's group exercise classes are an ideal way to keep fit and healthy, combined with the motivation of exercising together with like-minded people. Whether as a single exercise or in addition to the Gym, we have a timetable to suit all tastes.
There are both indoor and outdoor classes on offer, hosted in an air conditioned studio or the outdoor fitness zone. Classes are led by our fully trained instructors, who are on hand to offer fitness tips, support and ongoing encouragement.
Classes are included in all our membership packages, whilst non-members can take advantage of our group exercise classes on a pay-as-you-go basis.
Call a member of the Gymtec team for more information and to book your place.
01362 857195 enquiries@gymtec-fitness.co.uk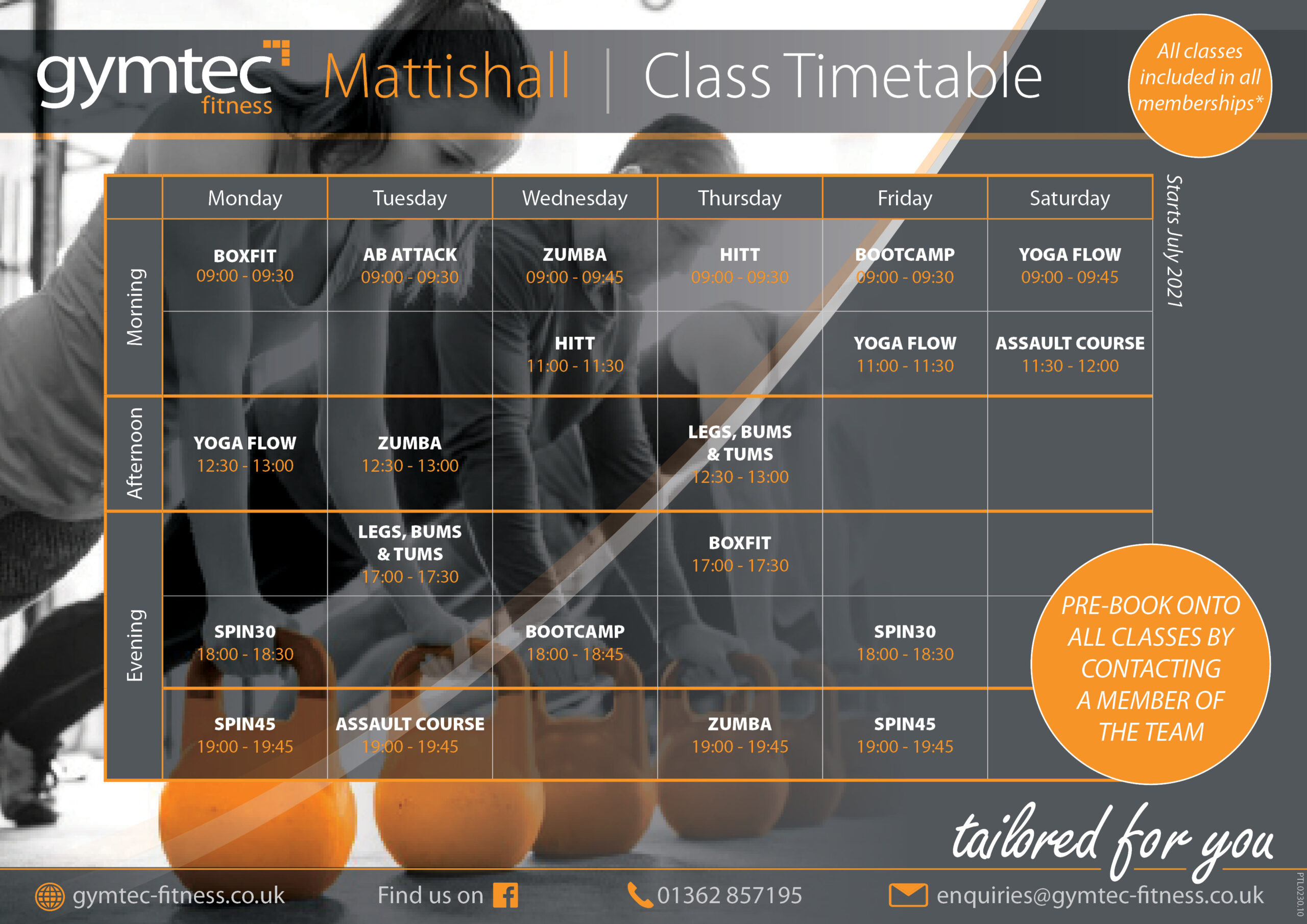 BOOTCAMP – An outdoor session designed to target all areas of the body using a variety of techniques and movements to ensure an increase in strength, endurance and power.
LEGS, BUMS AND TUMS – A full aerobic workout aimed to target those exact areas. A great way to lose weight, gain muscle and improve general fitness levels.
AB ATTACK – A 30 minute class focused purely on the core area. This class will get all the muscles in the abdominal and lower back region fired up helping you to achieve that all important core strength.
BOXFIT – An alternative way to increase fitness and reduce stress. This class will include basic boxing techniques along with a variety of functional full body movements and pad work that will be sure to get you fighting fit in no time.
HIIT – High Intensity Interval Training, a total body, heart -pumping, aerobic and strength conditioning workout. An interval -based class with high intensity cardiovascular bursts to ensure the sweat starts pouring!
SPIN30/45 – A popular class; great for improving cardiovascular fitness and leg power. Expect anything from sprints and hill climbs to jumps throughout both our 30 and 45 minute sessions, which will guarantee to burn off those calories.
ZUMBA – A combination of Latin and international music with dance moves. Zumba routines incorporate interval training, alternating fast and slow rhythms helping improve cardiovascular fitness.
YOGA FLOW – A class that incorporates energetic movement through a series of yoga postures, following the breath. This continuous flow of movement is timed with an inhalation or an exhalation in a choreographed sequence.
ASSAULT COURSE – Based on our range of outdoor obstacles this class is a fun and challenging way of exercising. Whether you are training for an outdoor mud race, just looking for a challenge, or want to get competitive with friends and family this class will be sure to get them adrenaline levels up.